Finance & Accounting Consultants | Infographic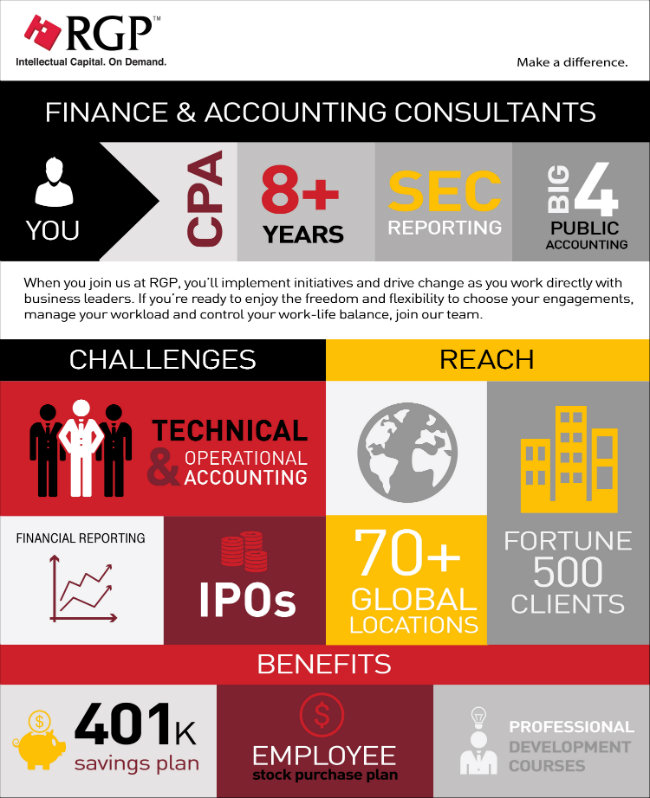 Join our worldwide community of Finance & Accounting Consultants.
Visit https://careers.rgp.com/search/finance to learn more and apply.
When you join us at RGP, you'll implement initiatives and drive change as you work directly with business leaders. If you're ready to join the freedom and flexibility to choose your engagements, manage your workload and control your work-life balance, join our team.
We are seeking Finance & Accounting consultants with the following qualifications:
CPA
8+ years of experience
SEC Reporting expertise
Big 4 Public Accounting experience
RGP Finance & Accounting Consultants take on varied assignments and challenges, including:
Technical & Operational Accounting
Financial Reporting
IPOs
As a global firm with 70 offices in North America, Europe and Asian Pacific, RGP serves over 1,800 clients, including many Fortune 500 clients.
Our Consultants enjoy the flexibility and autonomy to choose the client projects that interest them, while continuing to build professional relationships within our global community of Consultant and business professionals. We offer a comprehensive compensation and benefits package including health and life insurance, a 401(k) savings plan which includes a discretionary company match, employee stock purchase plan, paid personal time off program, professional development and certification courses.